With multiple food allergies in our house camping with other kids can be tough when there are treats everywhere.  We have compiled a bunch of snack ideas and recipes to make camping healthy and fun so no one feels left out.  When I go camping I like to plan ahead with our meals and make as much before  heading on the road.   As a girl I remember my mom cooking in the camper and then cleaning up and it seemed like half her day was spent doing this.  With a special diet and making everything from scratch it makes too many dishes for camping and doesn't sound like fun at all.  This camping season I am on a mission to simplify our camping meals and have lots of recipes and ideas to grab from with little thought.
With planning ahead it is easy to eat healthy real food!  By cutting up fresh vegetables and fruit ahead of time you save on room, work and messes.  I cook whatever I can ahead of time and prep things so all I have to do is heat them up over the fire.
Snacks – Wash and prep healthy snacks ahead of time.
Chop up cucumbers, carrot slices, peppers, zucchini, celery, radishes – Mix a dip using soy free Veganaise with lemon juice and herbamare and spices.
Avocados – my favorite snack and addition to any meal.  We put a little lemon juice with some herbamare or sea salt.
Sulfur free Dried Apricots and soaked almonds. I soak my almonds before we leave, lay them out to dry on a towel and then keep them in the fridge.
Homemade trail mix.  Mine usually includes nuts and seeds of all sorts, many dried fruits and a lot of shredded coconut with occasional added Enjoy Life or Cacao Chocolate Chips.
Bag of Pistachios
Boiled Pastured Eggs – I bring to a boil and then take off burner and let sit for 17 minutes, this leaves the yellows not too hard.
Oranges, mandarins, tangerines, halo's whatever looks good.
Pears or Apples with some Almond Butter
Organic Kettle Corn
Gluten-Free Zucchini Bread (SCD Legal): Makes 2 Loaves from beautifullynutty.com

3 cups almond flour
1 Tbsp. + 1 tsp. cinnamon
1 tsp. nutmeg
1/4 tsp. all spice
2 tsp. baking soda
1 tsp. salt
4 eggs
2 egg whites
2 cups zucchini, shredded and drained of liquid
2 over ripe bananas
1/4 cup honey
1 tsp. vanilla

Directions

Preheat oven to 350°. Lightly grease two standard bread loaf pans; set aside.
In medium bowl combine dry ingredients.
In large bowl, beat eggs until frothy. Add remaining wet ingredients; mix until well combined.
Gradually add dry ingredients into wet ingredients.
Divide batter into each prepared pan.
Bake for 55-60 minutes until toothpick inserted into center of loaf comes out clean and top of bread begins to brown.

The bread tastes great toasted, plain, with cashew butter, peanut butter, butter, apple butter…get creative! 
Lunches
Gluten Free Bread, Applegate Lunch Meat, avocados, cucumbers, sprouts with soy free Veganaise, Mustard for Sandwiches.
Avocados, Cucumbers, Meier Lemons, Romaine, Lettuce, Organic Tamari or Coconut Aminos and Herbamare or Sea Salt.  Chop it all up wrap it all in romaine lettuce and dip.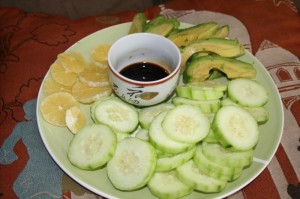 Gluten free Quinoa Pasta salad made ahead of time – Quinoa pasta, cucumbers, tomatoes, a vinegar either apple cider vinegar, red wine or balsamic with some extra virgin olive oil, avocado oil or grapeseed oil.
Hummus plate with veggies, Crunchmaster crackers, avocados.
Leftover dinner from night before
Collard wraps with almond butter, cucumber, avocado, carrots, coconut aminos and lemon squeezed.  Wrap up like a burrito and enjoy!

 
Breakfast – while getting everyones breakfast ready I always start out with a cup of yerbe mate tea for myself.  
Boiled Eggs and some Fresh Berries or Mango
Gluten Free Granola and Almond Milk with fresh berries
Bread with Almond Butter and Organic Fruit Preserves
Dinner – Make ahead of time the day before you leave.  We always bring along a jar of cultured vegetables.
Squash Chili – I cook in the crockpot the day before.  Optional you can add some grassfed hamburger.

 

Hobo Dinners- Chopped up veggies, anything you like.  We like red potatoes, yams, onions, zucchini, broccoli, cauliflower, cherry tomatoes, garlic, kale, spinach.  One of the following if you would like meat: chicken, grass fed hamburger, buffalo.
Campfire Toasted Burritos from simplebites.net
Applegate hotdogs, organic baked beans and a salad
Taco's – cook meat ahead of time so can easily heat up or bring pinto or kidney beans for vegan option, avocados, salsa, lettuce, tomatoes, cucumbers, jalopenos.
Desserts
Tortilla Dessert Roll Ups – These are delicious and you can use gluten free tortillas or organic corn tortillas.
Chocolate Chia Pudding – 3 cups Almond milk, 1/3 cup unsweetened cocoa or cacao powder, 3/4 cups organic sugar, Lakanto, 1/2 cup honey or maple syrup, 1 1/2 tsp vanilla, 3/4 cup chia seeds.  Mix all together and chill.  It will thicken nicely with the chia.
Of course gluten free smores – gluten free graham crackers, enjoy life milk chocolate bar and Elyon Marshmallows.
Homemade Power Almond Bars – these look amazing but haven't made them yet.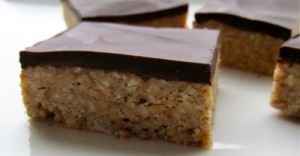 Essential Oils I always have on hand:
Lemon, Lavender and Peppermint oils – in case allergies kick up for any of us.  Add a couple drops of each to our water or rub on the bottoms of my 4 yr olds feet.
Protective blend is a  bug repellent during the day time and evening. I make a spray in a 4oz bottle with 30 drops and fill the rest with water.  I will also just apply it directly from the bottle if I don't have a lot of exposed areas to cover and then diffuse in area you are sitting outside to keep them away.  I always spray the outside rim of tent or camper door too.
Lavender – for any cuts or scrapes and even for sunburns and bug bites.
Melaleuca – I use this for my deoderant and then for any scrapes or cuts we get.
Lavender, Marjoram and Wild Orange for restful sleep at bedtime rubbed on everyones feet.
The others I take everywhere with me include: Frankincense, I use on my skin and for healing, Peppermint, Lemon to name a few.