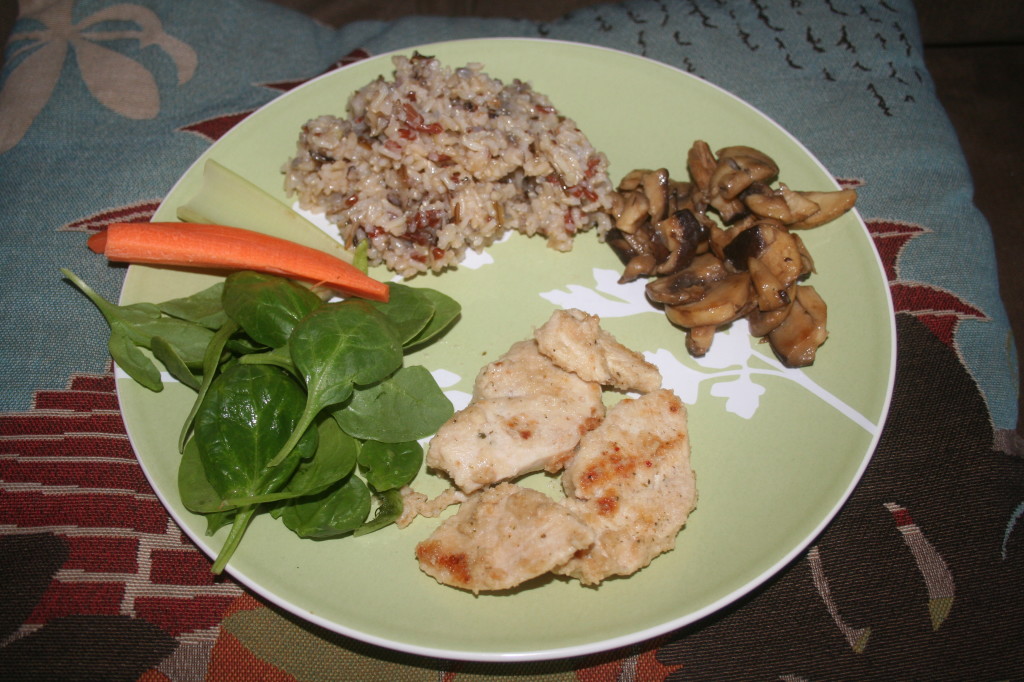 Try this Gluten Free Almond Italian Chicken for your main dish tonight!
Organic Rice Mix:
Take 2 cups wild rice and soak overnight, simmer in 4 1/2 cups water or broth for 30 min.  Or read direction on kind of rice using.  This brand is from Costco called Organic Harvest Medley.
Let cool and add some coconut oil and herbamare or sea salt
Sauteed Shitake or other Mushrooms: 
I pack of cut up mushrooms
6 large shitake mushrooms sliced up
Couple dashes of coconut aminoes or organic tamari
1 TBSP coconut oil or ghee
Herbamare or sea salt
Sautee everything in the pan for a couple minutes, set aside in a bowl.
Almond Italian Chicken
2 organic Chicken Breasts sliced up into slices
1 TBSP coconut oil
1/4 cup almond flour
Italian organic mix or seasoning
herbamare or sea salt
Melt coconut oil in same pan you did mushrooms in or another if you have it.   Add chicken, lay out each place on one side.  Sprinkle 1/8 cup almond flour on top, some herbamare or salt and some seasoning.  Cook for a minute and flip them over and do the same thing, cook a minute and then just stir and cook until done.
We served with a side of baby spinach, carrot sticks and celery.