This is the perfect lunch or dinner during late summer with all the beautiful peaches available.  You can also make this with mango, kiwi, cucumber, avocado, strawberry, pineapple and pear.  My girls both love all of these versions and they can still enjoy sushi without the dangers of raw fish.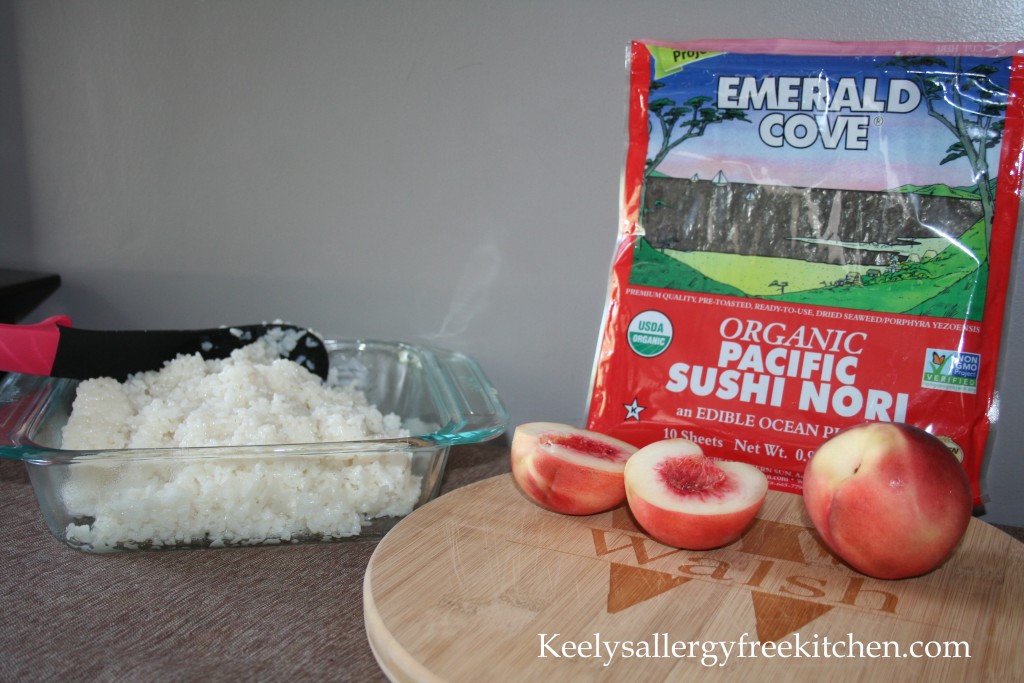 Sushi Rice
White peach
Eden Roasted Seaweed Sheets
Tamari
Sesame Seeds (optional)
Bamboo Sushi Roller
Optional piece of plastic wrap (this helps keep your bamboo roller clean and a lot easier than trying to wash it)
Sushi Rice Recipe
2 cups Sushi Rice
2 1/2 cups water
1/2 cup rice vinegar or rice wine vinegar
1 tablespoon organic cane sugar
1/2 teaspoon sea salt
Instructions
Put rice in a sieve and rinse under cold water for about 1 minute. Shake out excess water and put in the Instant Pot.
Whisk water, rice wine vinegar, cane sugar, and sea salt in a medium bowl until sugar is dissolved. Pour over rice and give it a stir.
Lock the lid. Set nozzle to seal. Press the 'rice' button which will auto set to the correct time ~ about 10-12 minutes.
Make Your Sushi
Grab you bamboo sushi roller and lay out a Seaweed sheet (Here is step by step if you are new to rolling sushi, here), scoop out your sushi rice and lay down middle and then spread out thin leaving space on each side, lay slices of white peach on one side of rice closest to you and then roll and cut.  You need an extra sharp knife to cut sushi.  I like this sushi knife best.