This recipe is very refreshing for summer.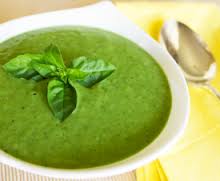 Cold Cucumber Avocado Soup from Jennifer Boddie
1 1/2 cup of fresh cucumber juice (2 large cucumbers)
1/4 cup Fresh lemon juice
1 Tablespoon of chopped green onion
1 Tablespoon of chopped red onion
1 Tablespoon of chopped fresh parsley
1 large garlic clove, minced
3 springs of fresh basil, chopped ( optional)
1 teaspoon of wheat free Tamari (We use Coconut Aminos)
1-2 teaspoons of curry powder, or to personal taste
1/2 teaspoon of ground cumin
Fresh basil, for garnishing the soup.
Directions:
Blend ALL ingredients in your high powered blender again, add avocado once ALL other ingredients are decently chopped up in the blender. Taste of Avocado can slightly change when OVER processed. IT will also slightly "dull" the vibrant green color in over processing it!