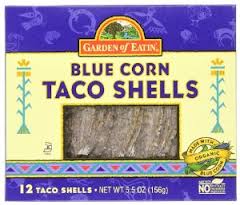 Here is a healthy twist on the traditional Taco Night.    This is such an easy dinner we added it in as a regular.
Organic Blue Corn Chip Taco Shells
Organic Refried Beans or Organic Pinto or Black Beans
Homemade Guacamole or sliced Avocado
Salsa
Yellow and Red Tomatoes
Shredded kale or Romaine Lettuce
Cilantro
Onions
Heat up the shells and beans, chop everything up and make the guacamole.  I always have homemade yogurt in the fridge ready to go.