We for the most part stay away from all soy, if we do have a small amount it is always organic/non gmo.  Coconut Aminos is the perfect replacement and the Coconut Vinegar is so good.  Read below for a bunch of Coconut Amino and Coconut Vinegar Recipes.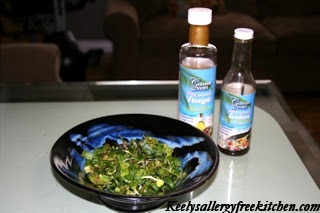 We have been having big salads with stuff from our Garden and microgreen sprouts along with riceless sushi rolls with avocado, vegetables and sprouts.  For the salad dressing and the dip for the sushi I have been using both coconut aminos and coconut vinegar, the girls love them and will pretty much eat anything if dipped in this stuff.
The following recipes are by:  http://www.coconutsecret.com/recipies2.html
Vietnamese Nuoc Cham ~ (Spicy Asian Dipping Sauce, Marinade, or Dressing)
From Dory K. – Albion, CA.
2 Tbsp Coconut Vinegar
1 tsp Lime Juice
1 tsp Coconut Aminos
1 Tbsp Water
2 ½ tsp Coconut Nectar
½ tsp finely grated Lime Zest (outer peel)
1 minced Garlic Clove
½ – 1 minced Chili Pepper
¼ tsp Sea Salt
Best Ever 30 Second Dressing/Marinade
From Dory K. – Albion, CA.
½ cup Coconut Vinegar
½ cup Coconut Aminos
Olive Oil to taste if desired
For a super quick, incredibly yummy dressing or marinade ~ simply mix together equal portions of our Coconut Aminos and Coconut Vinegar and drizzle over salads, steamed veggies, or marinate with your protein of choice and bake, grill, or sauté.  Add olive oil to taste if desired.
Spring Roll Dipping Sauce
From Amber Shea Ford – Overland Park, KS2 Tbsp Coconut Vinegar
1 Tbsp Lime Juice
1 Tbsp Water
2½ tsp Coconut Nectar
1 tsp Coconut Aminos
1 tsp Chile Oil
1 clove Garlic, minced
Whisk all ingredients in a small bowl. I put hearts of romaine, shredded carrot, and chopped cilantro in my spring rolls. These are really tasty, thanks in no small part to the tangy, salty, spicy dipping sauce!
SALTY GINGER & MUSTARD DIPPING SAUCE:
Yields 1/2 cup
1/2 cup Coconut Aminos (dilute with water to decrease saltiness if desired)
1 Tbsp Arrowroot mixed with 1 Tbsp Water
1/2 tsp ground dried Ginger
1/2 tsp ground yellow Mustard Powder
1/2 tsp Black Pepper
1/2 tsp Coconut Vinegar
In a small bowl mix the arrowroot and spices with 1 Tbsp water, and stir to make a smooth sauce. Add the Aminos to a small saucepan and heat on low until warm. Add the arrowroot/spice mixture and stir constantly until thick, about ten minutes. When thickened, take off the heat and pour into a glass bowl. Stir in 1/2 tsp vinegar.