Looking for a new dip with tons of healthy ingredients that your kids will love? This Tahini Dip recipe can be used as a vegetable and cracker dip, salad dressing or sauce for noodles just to name a few!  We made our favorite salad bar and wraps with collards tonight.  The dressing is so good you could eat it with a spoon.  My seven year old said "this is so amazing mom"!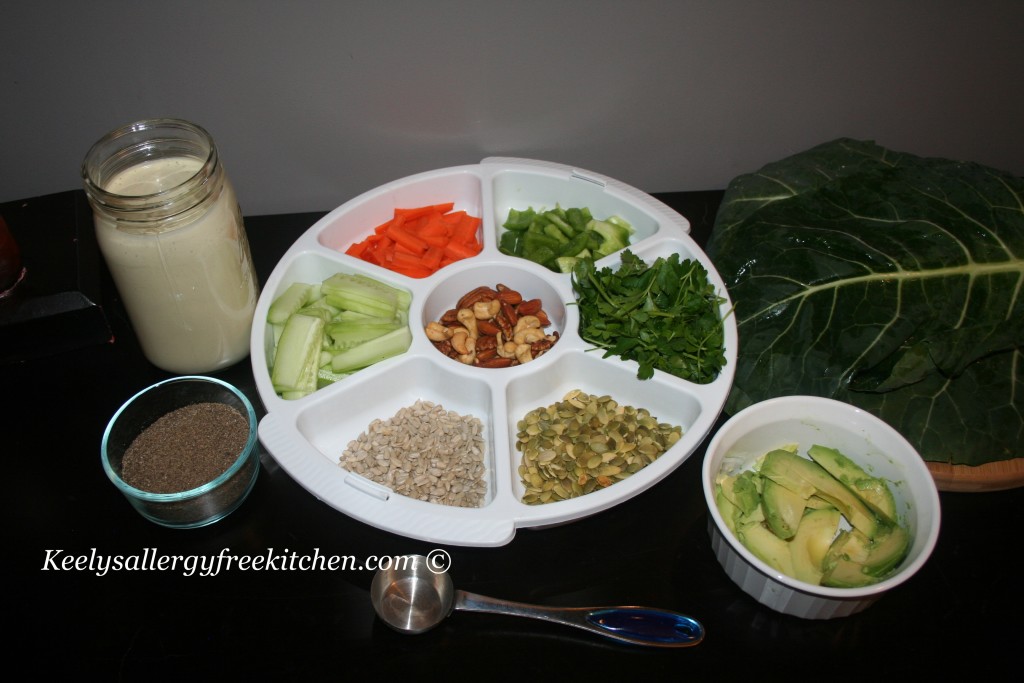 1/2 cup Organic Sesame Tahini
1/2 cup Extra Virgin Olive Oil
1/2 cup Avocado Oil
1/8 Coconut Aminos (Can do Tamari if using soy)
2 TBSP Apple Cider Vinegar
1 TBSP Raw Honey
1/4 Sweet Onion
1/4 green pepper
4 pieces of Celery
4 drops Lemon Essential Oil
squeeze 1/2 lemon
1- 2 tsp Herbamare or Celtic Sea Salt
1/8 tsp cayenne pepper or 1/2 raw jalapeno blended in (Optional if you want some spice, we add some to 1/2 of it for my husband and I and leave 1/2 without)
Throw everything in blender and blend until smooth.  Serve over your favorite salad or as a dip for all your veggies.  We love it with Kale, avocado and cucumber salad.  We served it with ground up chia seeds, raw sunflower seeds, pumpkin seeds, cashews, pecans, kale, avocado, carrots, cucumber, green pepper, parsley and collards.