We set up a Muesli bar about once a week at our house.  It is a favorite breakfast and everyone loves being able to pick their own mix.
Bob Mills Gluten Free Oats
Ground Chia or Mila
Hemp seeds
Chopped raw pecans
Cinnamon
Maluka Honey (if vegan you can do grade B maple syrup)
Enjoy Life Chocolate Chips
Chopped organic apples, pears or berries
Almond Milk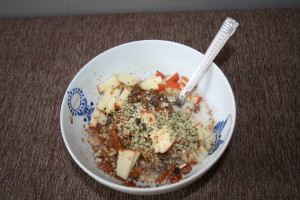 I don't cook our oats for long, I just pour some boiling water over them and let them sit for 5 minutes.  Then add any combo from above.  We make a little oatmeal bar and everyone puts in what they want.